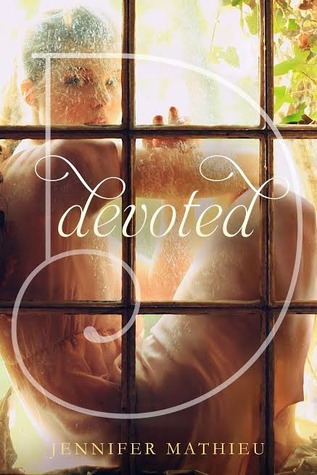 Title: Devoted
Series: N/A
Author: Jennifer Mathieu
Publisher: Roaring Brook Press
Publication Date: June 2nd, 2015
Page #: 336
ISBN: 1596439114
Aquisition: Library loan
Goodreads
,
Author's Website
Goodreads Description
Rachel Walker is devoted to God. She prays every day, attends Calvary Christian Church with her family, helps care for her five younger siblings, dresses modestly, and prepares herself to be a wife and mother who serves the Lord with joy. But Rachel is curious about the world her family has turned away from, and increasingly finds that neither the church nor her homeschool education has the answers she craves. Rachel has always found solace in her beliefs, but now she can't shake the feeling that her devotion might destroy her soul.
My obsession with young adult fiction with fundamentalist Christianity continues! This book was definitely easier to get through than some of the others in this category like The Chosen One or Sister Wives. Mathieu definitely did her research on this book, citing Kathryn Joyce's "
Quiverfull: Inside the Christian Patriarchy Movement
" book, and one of my favorite reads last summer, so I requested this one from my library as fast as I could.
Maybe because I did read that book, and have been picked through the "No Longer Quivering" blog Mathieu also cites as a reference for a while, that this book didn't hit me as hard as it will probably hit others. I've been around this block before, so nothing was particularly shocking or disturbing to me (i.e. women not being allowed to speak during prayer time, sanctioned teenage marriage and pregnancy, modest dressing methods, emotional suppression, etc.) That's what's keeping this book from hitting all five stars: I've seen the themes in YA fiction before, and Devoted didn't really bust any barriers for me. Obviously this will be different for someone less "devoted" (haha) than I am to this sub-sub-sub-genre of fiction so I don't want to penalize Mathieu.
But even though the "oh my gosh people actually do this" mentality was lost on me, Devoted still proved to be a sweet, heartfelt contemporary tale. Mathieu did a good job of spacing out Rachel's growth in the story. When a girl leaves behind a community like this she doesn't necessarily jump instantly into casual sex and booty shorts. Rachel is still uncertain of her place in her world once she's out from under her parents' (read: her father's and pastor's) thumbs and her adjustment to life outside of what she's used to comes gradually over the course of the book, from her first unchaperoned conversation with a boy, to her first sleeveless shirt, to her first paycheck, and so on. Things don't immediately click in to place when she first starts out, nor does she figure everything out by the end. The book is very light on the romance to reflect this, seamlessly avoiding another issue I've had with books of this kind.
The fact that Rachel kept her faith in God through the book was also nice. I wouldn't really classify this book as "Christian fiction" but if there's one aspect of her identity that Rachel is certain of it's that she believes in God and wants to pray. Keeping that aspect of her personality and upbringing really helped round out her character without making her feel unrealistic. Likewise, with Lauren, who left the same Church under much more violent pretenses, has different feelings and reacts to things differently and sees the world differently. The same goes for the other women in Rachel's life, like her mother and sisters. It's refreshing that Mathieu understands that not every woman is going to feel the same about religion, or leaving it for that matter. No one is "othered" in this book, and none of the characters we meet are painted as 100% evil or wrong.
All in all, a lovely read with a heartfelt main character and a tasteful plot for inquisitive girls of all faiths.
Four Stars!